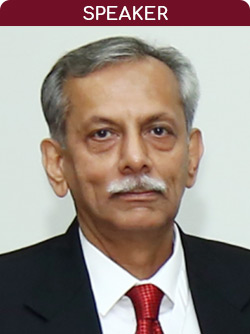 Vijay Kirpalani
CEO, Pi-Process Intensification Exp.LLP – Founder President, Flow Chemistry Society-India
Biography
CEO, Pi-Process Intensification Exp.LLP; Founder President: Flow Chemistry Society-India
Chemical Engineer with 40+ years in Nuclear Fuel processing, Petroleum Refineries, Agrochemicals, Bulk & Fine Chemicals, APIs & Pharmaceutical Plants.
Experience: BARC (Bhabha Atomic Research Center), Bharat Petroleum (Refineries), IPCL (Indian Petrochemicals Corporation Ltd.), UPL., ChemSphere Consultants P. Ltd., etc. and as Technical Director.- major pharma companies, CEO: Pi-Process Intensification
Synthetic Chemistry & Bio-transformations:
Extensive repertoire of process technologies, developed and commercialized across over 120 green-site plants with >200 processes in 14 countries; clientele such as Gist Brocades (Holland), GSK (India), Harbin Pharma (China), Fermion OY (Finland), Cipla Ltd., Dr. Reddy's Labs Ltd., etc.
Expertise  & Current focus: Continuous Manufacturing using Process Intensification, Flow Chemistry, Bio-catalysis. Process Design & Execution (of cGMP  HPAPI / API / Pharma Formulation, Chemical, Fine-Chemical, Biotech & Nanotech Facilities), implementation of QbD and PAT techniques. Design & manufacture of 3-D printed Flow Reactors, HiGee continuous extraction & distillation systems and continuous Dryers.
30 continuous plants commissioned using PI techniques in recent years, including a "Continuous multi-product 5 reaction-step API manufacturing plant" for a pharma major using Flow Reactors.