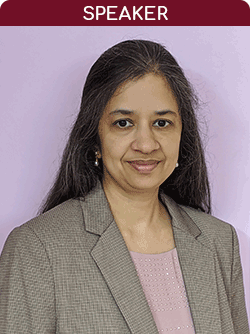 Srividya Ramakrishnan
Head, API Process Engineering at Dr. Reddy's Laboratories Ltd.
Biography
Dr. Srividya Ramakrishnan earned her B.Tech from Indian Institute of Technology, Madras, and Ph.D. from Princeton University in Chemical Engineering. After completing her Ph.D., she joined Unilever Research, New Jersey, where she spearheaded the research effort to reduce the irritation of skincare actives through a material science approach. She subsequently moved to the Process Research and Development group at Bristol-Myers Squibb, where she worked on crystallization process development and lead a multi-disciplinary team to identify and tailor the powder properties of an API.  
She returned to India to join Dr. Reddy's Laboratories Ltd. in 2008, and currently heads API Process Engineering. Her team is responsible for the scale-up of chemical processes from lab to plant and includes specialized sub-functions such as flow technology, polymorph screening and development, particle engineering. PAT, and modeling. She is passionate about advanced manufacturing technologies that support sustainability and enable robustness.
Srividya has presented her research at international conferences, has several publications and patents to her credit and has co-chaired sessions at the AIChE annual meetings. She is also an ASQ-certified Six Sigma Black Belt.
Srividya has taken up an additional role as Chief Diversity Officer at Dr. Reddy's, and is championing diversity (gender and beyond) within the organization. She has been recognized for Leadership Commitment at UN Women India 2020 WEPs (Women's Empowerment Principles) awards. She has actively participated in panel discussions at CPhI events such as Women in Leadership Forum and Women in Pharma.
Srividya is one of the 51 women featured in "WiSTEM 2021", an e-book released by the Confederation of Indian Industry (CII) on Indian women in STEM..
Title of presentation:
Design of a continuous manufacturing process for drug substance